Thank you for visiting our Internet site.

Sunshine Dome grows local organic fresh vegetables, fruits, and herbs in Conifer, Colorado. The greenhouse grows fresh organic vegetables and herbs all year long. Please contact us if there is something special you would like us to grow for you.

Sunshine Dome is a solar powered geodesic greenhouse with all fans, pumps, and lights using solar power. The greenhouse is designed to be as "green" as possible using solar electrical power, ultra effiicient drip watering systems, automatic self opening windows that do not require any electricity, and other effiicient methods to sustain a high quality environment for growing organic vegetables, fruits, and herbs.

If you have questions regarding Sunshine Dome we would be pleased to hear from you! Please let us know which vegetables or herbs you are interested in. You can contact us at veggies@sunshinedome.com or give us a call at 303-838-8040.

Winter Picture: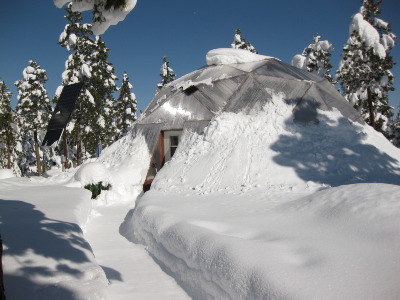 Summer Picture:

Thank you for your interest!